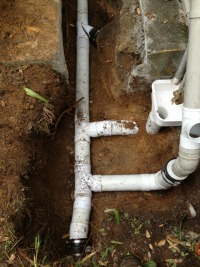 Effective and correctly installed drainage systems play an important role in protecting your personal (and public) health and maintaining a pollution free environment.

Whether you are laying brand new drains for a new house or extension or replacing your old, worn out drains we have the expertise and experience to do the job.One of the main components of Drain-laying is digging.
Our diggers are small and made for residential use so they won't damage your drive-way. Also our digger-operators are practised at working in small confined areas and close to the house. We have never damaged a house yet!

Hand-digging is sometimes the best option in Drain-laying depending on the depth and width of dig and we do it fast and efficiently. If we need to cut through your concrete drive-way to lay a drain, we have the experience and equipment to cut and break though the concrete and to also re-lay the concrete after works.

We try to the best of our ability to finish the job and to make the worksite look as close to what it was before we started works.